Chicken Burrito Bowls with Hatch Chile Rice is an easy dinner idea that will only take 15 minutes to make, and features popular Hatch Chiles from New Mexico.
The first year we lived in Las Vegas, I noticed Hatch Chiles at the grocery store in the produce department. I didn't know anything about them, other than that they were from New Mexico from the words on the box. I hadn't seen them in Virginia, but considering my love of Southwestern cuisine, I knew wanted them. The only thing, though, was that they were sold in huge box that I found so intimidating. How do I use them? How do I store them? Can I freeze them? I had no clue.
After a few years, I kept hearing people talk about Hatch Chiles. I would see food bloggers making amazing recipes with them and, of course, I was wanting them even more now. Last year I learned that some grocery stores in our area will actually roast them for you (special event type thing). But still, it seemed like a lot of effort and what would I do with them all? Even if I could freeze them, I doubt I had the space in my freezer.
Fast forward to this past month and I found out a perfect alternative to buy that huge box of Hatch Chiles at my grocery store — buying them online! I suppose I should have known that I could do that, but I didn't until the folks at Hatch Chile Co sent me some of their chiles. Talk about being in foodie heaven. David and I started talking about all sorts of recipes we could make with them — and since they sent me 5 lbs worth, there was plenty for me to play with.
Coming up with ideas on how to use the Hatch Chiles is no problem…but the real challenge came in with creating a supper in 15 minutes with them. After much thought and recipe testing, I'm ready to share with you my idea: Chicken Burrito Bowls with Hatch Chile Rice!
As the name #15MinuteSuppers implies, this dinner idea is very easy. The main part of this meal is the Hatch Chile Rice, which is SO simple. It starts with chopping up about 1/2 cup of drained Hatch Chiles. You could certainly use more if you like, but I went with 1/2 cup. To keep the meal under 15 minutes, I opted to use instant rice. If you have more time, you can prepare non-instant rice in pretty much the same method I'm sharing.
You'll prepare your instant rice according to the package instruction for 4 people (2 cups of rice & 2 cups of water), with one exception — when you add the rice to the boiling water, you will also add in the Hatch Chiles. After the rice is completely done cooking, add the juice of 1/2 lime, season with salt, and fluff. That's it! Easy, right?
For the chicken, you'll want to pick up a rotisserie chicken from the deli of your local grocery store and remove the chicken to use for your Burrito Bowl. If you happen to have leftover chicken, you can use that instead.
To create your Chicken Burrito Bowl, first start with the Hatch Chile Rice. Then add chicken on top of the rice and any other toppings you might like. Some of the things we had: black beans (drained and rinsed), corn, lettuce shredded cheese, cilantro, jalapenos, tomatoes, sour cream, avocado or guacamole, and lime wedges. A delicious DIY dinner that is just like a burrito but without the tortilla.
I do want to mention that I actually prepared two batches of rice — while I don't think the rice is overly spicy (my chiles were medium) one of my kids doesn't tolerate anything that has even a bit of heat. So, I quite easily prepared another batch of rice for him (I still added lime juice and put in some chopped cilantro).
Here's the complete recipe – you can print, save to your ZipList for late use, or you can pint this recipe to your pinterest boards. And be sure to scroll down to enter the Hatch Chile giveaway!
Chicken Burrito Bowls with Hatch Chile Rice
Ingredients
Hatch Chile Rice
Instant Rice
½ cup Hatch Chiles (driained and chopped)
Juice of ½ lime
Salt, to taste
Chicken Burrito Bowls
Hatch Chile Rice
12-16 ounces cooked chicken meat (leftovers or from a rotisserie chicken)
Optional toppings: black beans (drained and rinsed), corn kernels, shredded cheese, shredded lettuce, sliced tomatoes, sliced jalapenos, sour cream, avocado wedges, guacamole, cilatro
Instructions
Prepare instant rice according to package instructions for 2 people (approximately 2 cups of rice to 2 cups of water), however, when adding rice to the water, also add the chiles to the water. When rice is finished, squeeze the juice of ½ lime over the rice, fluffing as necessary. Season with salt, as desired.
To create a burrito bowl, spoon some of the rice into the bottom of your bowl. Then top with chicken, followed by any of the desired toppings.
For more information on the Hatch Chile Co, check out their website follow them on social media:
Keep Reading for an Amazing Giveaway of Green Chiles worth over $400!!!
Today's 15 minute meal ideas all use Hatch Green Chiles from Hatch, NM. There is nothing better than a perfectly ripe chile and these chiles are picked, processed, and frozen within a couple hours. They are super versatile and we've created some amazing #15MinuteSuppers using these delicious chiles. There are a few appetizers and the rest are main dishes! Which one is your favorite?
Need more quick 15 minute recipe ideas? Check out these other great #15MinuteSuppers!
Follow 15 Minute Suppers on Facebook | Twitter | Instagram | Pinterest
and look for the #15MinuteSuppers hashtag too!
Appetizers
Main Dishes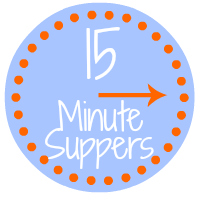 BLOGGERS: Would you like to join us at #15MinuteSuppers? We'd love to have you! Please check out the 15 Minute Suppers website or ask to join the Facebook group (for bloggers) to participate on Fridays…we'd love to have you join us.
Disclosure: This is sponsored recipe for the Hatch Chile Store through 15 Minute Suppers. Recipe & opinions are my own.