Southwestern Egg Rolls are a delicious dinner or snack with a generous filling of avocado, black beans, corn, and pepper jack cheese.
I realize we're all planning and preparing for Easter this week (I am too — so excited for Sunday), but in just over two weeks, my most favorite of foodie holidays will be HERE!
What could it be? Well, let's just say that guacamole is best friends with this holiday. It's Cinco de Mayo! The #15MinuteSuppers bloggers and I are here to get you ready for your festive foodie holiday with lots of easy Cinco de Mayo recipes (see the end of this post for all the links).
And while that should be pretty cool all on it's own, we are also holding a giveaway — with multiple winners — for some awesome Wholly Guacamole and even more Wholly products. The first place winner will get a year supply of Wholly Guacamole (in the form of coupons) and other goodies and then there will be seventeen (17)  2nd place prizes who will get a cooler of Wholly products. I got my own little cooler shipment last week and I'm LOVING it. I've been a Wholly Guacamole fan for a while, but I was able to try their Wholly Avocado and their Wholly Salsa for the first time and I'm hooked on it.
One of the things that makes my Southwestern Egg Rolls so easy is that I used the Wholly Avocado, which is 100% avocado. There was no avocado to open, no seed to remove…just open the package and you are ready to go. I can see this being particularly  helpful to those of you who like avocado, but find the whole opening of one a pain. Plus, you don't have to rely on your store having ripe avocados — just pick up a package of this and your almost halfway there.
The filling of the Southwestern Egg Rolls consists of the Wholly Avocado, pepper jack cheese, and a mixture of black beans and corn that have been spiced up a bit.
All this is layered and rolled up in an egg roll wrapper. Then, it's fried in oil to crispy perfection. I know you might want to ask me if these can be baked and the answer is yes, but I don't prefer to. I don't fry a lot of foods, but there is a few things I insist on frying and this is one of them.
I suppose I should add a little disclaimer: this isn't "real" Mexican food. I'm not even completely sure it's totally Southwestern. Eh, could be…depends on who you ask. I do know it's certainly not an egg roll — just made in an egg roll wrapper. But let's just go with it all and make our bellies happy.
While these really don't need extra condiments for dipping, I still like to have something to dip them in. We generally have sour cream or maybe even ranch dressing. But this time, I decided to use the Wholly Salsa. It's so, so good and was a great choice.
Here's the complete recipe — and don't forget to enter the giveaway at the end of this post!

Southwestern Egg Rolls
Author:
Brandie Valenzuela
Ingredients
1 can (15 ounces) black beans, rinsed & drained
1 cup frozen corn kernels, defrosted
1 tablespoon minced red chiles
1 tablespoon chopped cilantro
Salt, to season
8 egg roll wrappers
1 package (8 ounces) Wholly Avocado 100% Avocado
4 slices pepper jack cheese, cut in half
Water, for sealing egg roll wrapper
Vegetable or canola oil, for frying
Optional condiments for dipping: Wholly Salsa, Wholly Guacamole, sour cream, ranch dressing, etc.
Instructions
In a bowl, mix together the black beans, corn, chile pepper, and cilantro. Season with salt.
Lay one egg roll wrapper on work surface in front of you so that it's forming a diamond shape (one corner should be pointed towards you, etc). Spoon about 1-2 tablespoons of Wholly Avocado in a line in the middle of the egg roll wrapper. Top with ½ cheese slice, and then approximately ¼ cup black bean mixture.
Fold in side corners, and then fold bottom corner over filling, make sure edges are tucked in, and roll up tightly to enclose filling. Dap top corner with some water with your fingertips and seal roll closed with top corner. Repeat with remaining ingredients.
In a large skillet, heat oil to 350 degress F. Lay 2-3 egg rolls carefully in the oil, top flap side down. Turn occasionally, until golden brown, Drain on paper towel lined plate. Serve with optional dipping choices.
To enter the Wholly Guacamole Giveaway, just enter on the Rafflecopter below:
Want to know more about Wholly Guacamole? Here's where you can find them:
Website | Facebook | Twitter | Instagram  | Google +
Need more quick 15 minute recipe ideas? Check out these other great #15MinuteSuppers!
Follow 15 Minute Suppers on Facebook | Twitter | Instagram | Pinterest
and look for the #15MinuteSuppers hashtag too!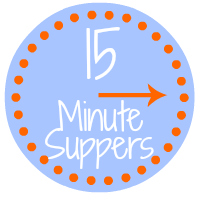 BLOGGERS: Would you like to join us at #15MinuteSuppers? We'd love to have you! Please check out the 15 Minute Suppers website or ask to join the Facebook group (for bloggers) to participate on Fridays…we'd love to have you join us.
Disclosure: This is sponsored recipe for Wholly Guacamole through 15 Minute Suppers. Recipe & opinions are my own.