Chuck E. Cheese's has been a long-time favorite for our family. Of course, the main draw for our kids has always been the games. We usually head there with coupons and for about $20, we can get 100 tokens — dividing it up to 50 per kid. They have fun for an hour or more, collecting as many tickets as they can win.
We usually get some sort of snack or meal at Chuck E. Cheese's, but it has never been a place that we go specifically for the food. We haven't ordered the pizza in years, but we usually get the salad bar — the kids do too.
All that might be changing though.
Last week, our family was invited to Chuck E. Cheese's to taste test a new menu they are trying out. The new menu is available in select cities and 5 Las Vegas locations are part of the trial. They will evaluate the best performing items before deciding on what items will be on menus nationwide. I was extremely impressed with the new menu items and I think you will too.
Want the new menu items in your city? You can help!
At the end of this post, I have a giveaway where you can enter to win a family guest pass to Chuck E. Cheese's that includes 1 large pizza, 4 sodas, and 30 game tokens. For your entry, just tell Chuck E. Cheese's which of the following menu items you are most excited to see on the menu in your city.
Here are the contenders:
I'm SO happy to see that some new wraps might be a permanent item at Chuck E. Cheese's!  The new options include a Caesar Wrap and a Club Wrap, both made with whole wheat tortillas. I tried both and they were delicious — but, my #1 favorite was the Club. There is also a BBQ Chicken Ciabatta Sandwich — I didn't try this, but David did and he really liked it.
The next bit of awesomeness on the Chuck E. Cheese's menu was that they now have a Thin & Crispy option for ANY pizza on the menu. I'm happy about this because we usually order thin crust on our pizzas as a way of saving some calories and carbs. They are also testing out two new pizzas are part of their menu redesign. First, was the Cali Alfredo with alfredo sauce, fresh spinach, 100% fresh mozzarella, chicken breast, sliced mushrooms and sausage. It was EXCELLENT and a total game-changer for me when it comes to what I might order at Chuck E. Cheese's.
David loved this new pizza: BBQ Chicken Pizza. Not only did it have chicken breast, green bell peppers and mozzarella, but it was topped with crispy onions and a BBQ drizzle.
While I know Chuck E. Cheese's is changing up their menu to appeal to the grown-ups more, these Sweet Chili Boneless Chicken Wings were a huge hit with our teens. They liked them so much that after getting home, they told me we HAVE to order them the next time we go.
Oh my, these were INSANELY GOOD: Buffalo Chicken Cheese Bread. The celery makes them healthy, right? 😉
Chuck E. Cheese's is also testing out these Soft Parmesan Breadsticks, which I really liked. The only thing that would have made them better was some pizza sauce to dip them in, but I'm sure that can be requested if they are added to the menu.
One thing about inviting kids to a taste test is that they will definitely go to the desserts first! These Dessert Churros with Salated Caramel and White Chocolate Icing were gone in a flash, so I didn't get to try them, but luckily I snapped a photo just before so you can see their yumminess.
I did get to try another dessert option though: new and improved cinnamon sticks. I can't say how they compare to the original version on the Chuck E. Cheese's menu, but I thought these were great. Plenty of cinnamon crunch!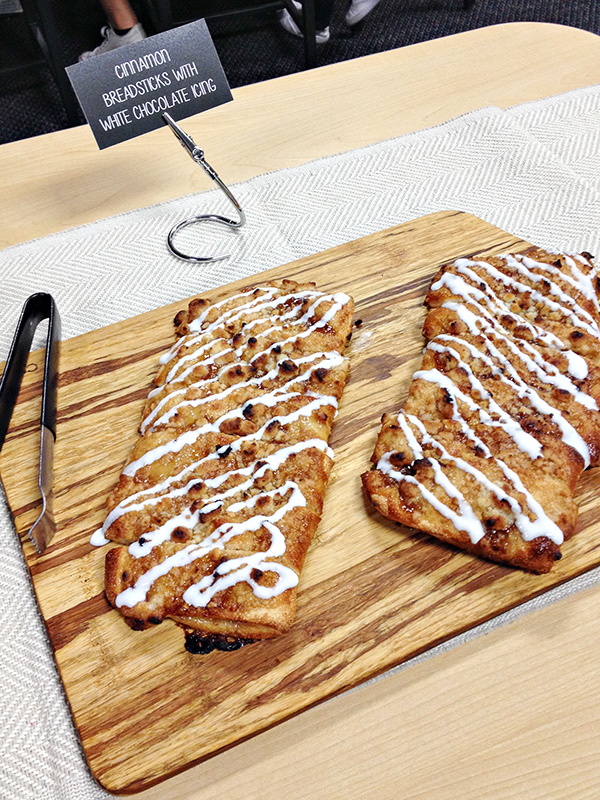 I think these new options at Chuck E. Cheese's are a much needed addition and hope that they all make it on their nationwide menu.
What about you? If you live in one of their test markets, like Las Vegas, you are able to try out the new menu items right now by visiting. But even if you don't, share your thoughts here on my post.
Which of these new items would you like to see added to their nationwide menu?
Leave me a comment and use the Rafflecopter below to earn your entry for a chance to win a Chuck E. Cheese's Guest Pass (valid for 1 large pizza, 4 sodas, and 30 game tokens).
Want to double your chances? After entering here, be sure to enter our other Chuck E. Cheese giveaway here: 10 Best Chuck E. Cheese Tips