OXO storage ideas for small kitchens…like mine!
We have a small kitchen that is less than 100 square feet. There is no kitchen island and counter top space is minimal.
Our refrigerator is small — I believe it's 15.6 cu square feet. The built-in space where we can place our refrigerator is designed for a larger fridge, so we do have room on the side. We used this space to place a skinny shelving unit, which holds food items we've stocked up on, storage bags, foil, plastic wrap etc.
We're limited on cabinet space too.
I do dream of having a large kitchen someday. And sometimes, I do get a bit frustrated with the lack of space (after I've done a large grocery shopping, for example). But, I'm not complaining. This kitchen has everything I truly need. It's more than a lot of other people have. I just use a bit of creativity, and great organizing products, to make it all work.
One way I make it work is by a using products from a company I've relied on for several years now: OXO. The products they offer are innovative — they see need or tool that is lacking in one way or another and they set out to make it better.
One of their products that I've been using in my small kitchen for over a year now is the OXO Good Grips POP Containers. I make use of the space on top of my refrigerator by placing my OXO POP Containers on top of the fridge. They have  flat lids and are purposely designed for stacking, so I stack them up with a variety of items — everything from grains to snacks.
OXO recently sent me something else to try — their OXO Good Grips Pop Cereal Dispensers. Like the POP Containers, they have a design that is great for saving space. Another helpful feature is that lids can be popped open with just one hand (same as with the POP Containers).
Even though I've been using the OXO POP Containers for a while, I haven't been doing the best job with keeping them nicely organized. I also buy a lot of bulk items at the grocery store, and have found myself needing more than just the 10-piece OXO POP Container Set. As you see in the image below of the top of my fridge, I have several types of containers (glass jars, plastic canisters, etc) holding everything. Because I'm using all sorts of different shapes, nothing stacks efficiently — well, except for the OXO products.
With now having a second set of OXO POP Containers, I was able to clean up the storage on my refrigerator like never before! Cereals were placed in the OXO POP Cereal Dispensers where they will stay much fresher than in the boxes, and all the glass jars and other odds & ends storage containers were removed. Check out my before & after photo below:
I used a total of 20 OXO POP Containers, plus 3 OXO POP Cereal Dispensers to organize everything. I'm so much happier with how it looks and I especially love that I can see items easily. No more wondering if I am running low on cereal or sugar.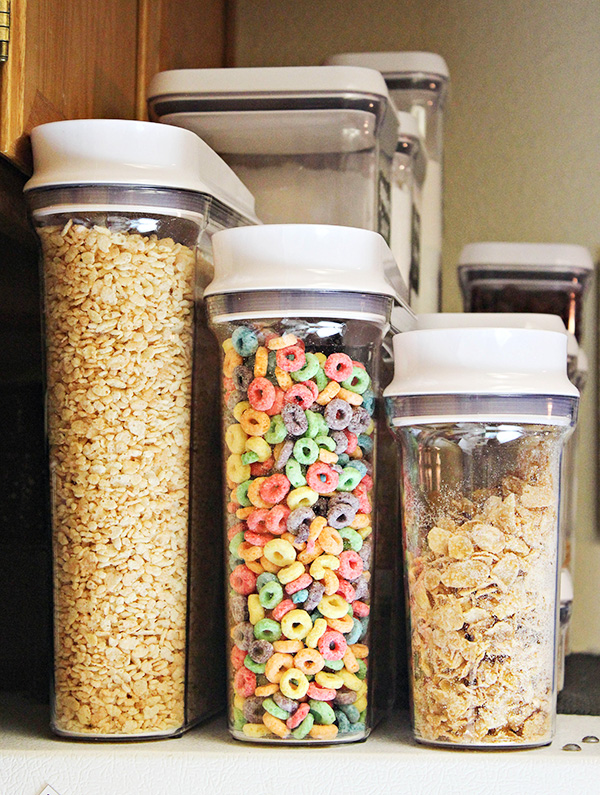 Considering that the top of my refrigerator only measures 28″ wide, the POP Containers made an excellent use of such a small space. I don't have room to store my flour, sugar, grains, etc in my pantry, so having it on top of my refrigerator is vital.
You may have noticed  the repositionable, self-adhesive chalkboard labels the chalkboard labels on my OXO POP Containers.  I could have labeled all of my containers (and I might someday), but for now I just labeled items that might be confused with each other.
Labels similar to this can be picked up at The Container Store (one of my most favorite stores!). I'm constantly stopping in at The Container Store to find new items for organizing my small kitchen kitchen — I could spend hours in there!
If you have a small kitchen, or find yourself short on space, check out the OXO POP Containers, which are available at The Container Store locations nationwide or www.containerstore.com and other OXO products for storage and organization. They've been making a great difference in my kitchen.
Could your kitchen use some organizing?
If you could use some kitchen organizing, enter the POPtober Giveaway from OXO and The Containers Store!
To enter, go to http://bit.ly/POPtoberGiveaway
You could win a prize pack worth $500, including your choice of OXO Storage & Organization tools (up to $250), as well as a $250 elfa Shelving System gift card from The Container Store. The giveaway will end on Friday, October 31st, so don't delay!
Want more OXO Storage Ideas for Small Kitchens?
Check out my wish list of items on my Pinterest board. I've even included notes on how I would use certain products:
Follow Brandie (Home Cooking Memories)'s board OXO Storage Ideas for Small Kitchens on Pinterest.
Disclosure: This is a non-compensated post, however I was provided with OXO products for my use.