Hummus Pita Pizzas are a quick and easy meatless dinner idea that takes less than 15 minutes to make, with minimal cooking.
When our oldest daughter was about 15 or 16 years old, she was vegetarian for about a year. I did my very best to support her…even though I felt clueless. I didn't know how to blend our usual meals into her lifestyle and while I figured out some things (usually substituting beans for meat in many dishes), there isn't any meals that I made during that time that were particularly memorable.
My how times have changed. If she said today that she was going to become vegetarian again, I would have many family-favorite meals I could make, plus many new ideas that I think the whole family would love. We love meat in our house, but  in the last eight years, I've also learned that there are amazing meals that we can enjoy that don't involve any meat at all.
Today, I'm sharing one of those meals. It's a quick and easy dinner idea that I found last week in the last issue of Real Simple Magazine (April 2014). I made it for dinner and it was so full of flavor that I just know it will be memorable. I personally loved this dinner so much that I can't wait to make it again.
While use of an oven or stove isn't required for this recipe, I decided to toast the pita bread in the oven. To do this, I sprayed a baking sheet with cooking spray and brushed the top of a pita bread with a bit of olive oil. Then, I sprinkled on a bit of a garlic seasoning blend I had on hand. I baked the pizza in the oven for  a bit until it was browning and slightly toasted.
You'll want to have an assortment of toppings on hand. We had halved grape tomatoes, crumbled feta cheese, sliced green olives (my new favorite: Lindsay Natural Green Ripe California Olives), fresh dill and parsley.
And then you assemble it all. Once the pita has cooled, you will spread about 1/4 cup of hummus on top of the pita and then add your other toppings. If you wish, you can give it a nice drizzle of olive oil and a sprinkle of salt and pepper. To eat them, I recommend enjoying it whole, without cutting, but you are welcome to cut it into smaller pieces.
Here's the complete recipe for you to save to your ZipList recipe box or print. If you aren't ready to make it yet, but want to save it for later, I would recommend pinning it to one of your Pinterest boards by clicking the red "Pin It" button:  
Hummus Pita Pizzas
Ingredients
4 8- inch whole-wheat pitas
Olive Oil
Salt and Pepper
1 cup hummus
Optional toppings: grape tomatoes halved, crumbled Feta cheese, chopped fresh dill, chopped fresh flat-leaf parsley, sliced olives, olive oil, salt, pepper
Instructions
Preheat oven to 350 degrees F. Brush both sides of pitas lightly with olive oil. Place on large baking sheet. Sprinkle lightly with salt and pepper. Bake in oven for 5-7 minutes or until lightly toasted and beginning to brown. Remove from oven and allow to cool.

Spread 1/4 cup hummus on one pita. Top with other toppings. Finish with a light drizzle of olive oil and a sprinkle of salt and pepper, if you wish. Repeat with remaining pitas. Serve whole.
Recipe Notes
Adapted from Real Simple Magazine, April 2014
Need more quick 15 minute recipe ideas? Check out these other great #15MinuteSuppers!
Follow 15 Minute Suppers on Facebook | Twitter | Instagram | Pinterest
and look for the #15MinuteSuppers hashtag too!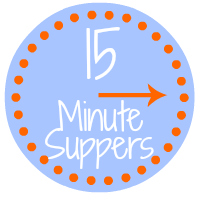 BLOGGERS: Would you like to join us at #15MinuteSuppers? We'd love to have you! Please check out the 15 Minute Suppers website or ask to join the Facebook group (for bloggers) to participate on Fridays…we'd love to have you join us.