If you love toasted marshmallows, then you'll love this Easy Toasted Marshmallow Ice Cream recipe. This food hack combines vanilla ice cream with a bag of marshmallows to create something magical.
With so many ice cream flavors available at the grocery store these days, it's easy to find that perfect flavor you are craving. But, not long ago, there was an ice cream flavor I wanted that I couldn't find.
I had this idea to put my love of ice cream together with my love of marshmallows, into a fun little dessert. My idea was to make S'mores Ice Cream Cups – all the flavors of s'mores in a small cupcake-size frozen treat.
But, this meant that I needed a marshmallow ice cream. Not an ice cream with little marshmallows in it. And not an ice cream with marshmallow cream. I wanted the flavor of the entire carton to be marshmallow ice cream.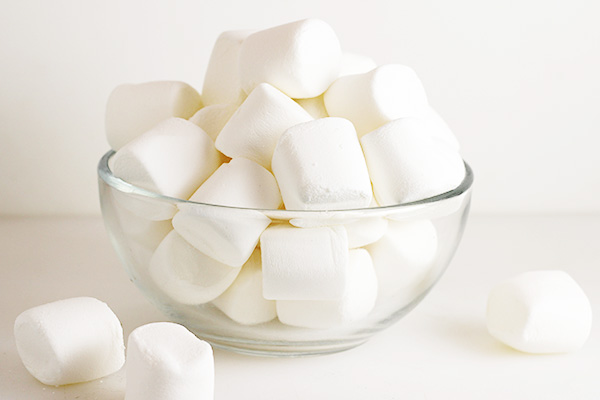 But, I couldn't find one. I'm not saying that it doesn't exist (I'm sure it does somewhere), but after a trip to Winco, Walmart, and Smith's, I decided I wasn't going to drive all around Las Vegas looking for it.
Since I couldn't find my perfect marshmallow ice cream, my only option was to make it myself. But, I didn't want to spend the time making a homemade marshmallow ice cream AND then spend the time making my S'mores Ice Cream Cups. Nope, no sir. I wanted this to be easier than that.
My solution: vanilla ice cream from the freezer aisle at the grocery store + a bag of marshmallows. It's not really a "recipe", but more of a food hack. Two simple sweet treats coming together to create something magical.
Want to see how I did it? Let's go!
As I mentioned, you'll need vanilla ice cream. You'll need to set it out on your counter for about 15 minutes or so to to soften it up while you get your marshmallows ready. Place your marshmallows on a baking sheet and toast them under your broiler for a few seconds. It doesn't take very long, so don't walk away! Toast one side and then pull out the pan and flip each marshmallow over to toast the other side as well.
In a food processor or blender, place half of your vanilla ice cream.
Throw in your toasted marshmallows and process until the mixture is as smooth as possible.
Add the remaining ice cream to the mixture and process until combined.
TIP: If your food processor or blender isn't large capacity (mine is a 14-cup), you might need to do this step in batches, with each batch being combined in a separate large bowl.
Once all of the ice cream has been blended with the toasted marshmallows, pour the mixture back into the original ice cream container.
Return the container to the freezer until set. My ice cream didn't freeze as hard at it was before adding the marshmallows, but I'm totally ok with that and I don't find it to be an issue.
The flavor of this easy toasted marshmallow ice cream is AMAZING! Well, of course, I think it's amazing, because I LOVE toasted marshmallows. If you do too, I think we'll get along just fine.  😉
Easy Toasted Marshmallow Ice Cream
Here is the full instructions for making your own Easy Toasted Marshmallow Ice Cream – ready for you to print. If you aren't ready to make this yet, be sure to save it to one of your Pinterest boards so you can find it easily in the future.
Print
Easy Toasted Marshmallow Ice Cream
Ingredients
10 ounces marshmallows (regular size)
1½ – 1¾ quarts vanilla ice cream
Instructions
Set ice cream out on kitchen counter to allow it to soften.
Lay marshmallows, on their side, on a baking sheet. Broil the marshmallows as close to the flame as possible, until toasted. Don't walk away! It will only take 30 seconds or so to get them toasted. Keep checking and remove as soon as they are as toasted as you like. Remove pan from broiler and gently flip over each marshmallow to expose the un-toasted side. Return to broiler to repeat previous steps.
Add half of the ice cream to a food processor or blender. Add toasted marshmallows on top of the ice cream. Process ice cream and marshmallows together until mixture is as smooth as possible (you may have small pieces of marshmallow remaining).
Add remaining ice cream to food processor or blender and blend together with the mixture until smooth and combined. NOTE: if your food processor or blender is a smaller capacity that won't hold all of the ice cream, process in batches and combine all the batches in a separate large bowl.
Pour or scoop ice cream back into original ice cream container or another freezer-safe food storage container. Return to freezer and re-freeze.