A quick and delicious dinner is only minutes away with this Chicken BLT Chopped Salad recipe.
When we leave our house and turn off of the street we live on, we have trees that line the middle of the road, separating the northbound and southbound lanes. I know very little about trees (actually less than that), so I have no clue what they are called, but for a short while in the Spring, they bloom the prettiest pink flowers. Every time I drive down the street with those trees blooming, I can't help but smile because of how beautiful they are. I do my best to enjoy it while it last because after a while, the petals fall and there is no more until the next year.
It may be only February, but I was so surprised today to see that the trees in the middle of the road had just started blooming! Of course, I'm not surprised — it's already warming up here in Vegas, where our daily temps are in the 70's. I've even had my A/C on a couple times. And while so much of the country is still dealing with cold temperatures and snow, I found myself being greeted by Spring with those pink flowers.
With this warmer weather, we have already started back to having salad at least once a week for dinner, which means soups and chili have started to take a back seat. A lot of times, our salad is a DIY Salad Bar at Home, which is great and all, but some of my favorite salads are the ones like the Chicken BLT Chopped Salad I'm sharing with you today. Not only is this salad one of my favorites, but I like that almost everything is mixed up, making things lots easier. This is also a quick dinner — your total prep and cooking is only about 15 minutes. Yay for getting out of the kitchen fast!
One of the ways I make this a quick dinner is that I cut the chicken breast (which this one in the photo below is about 12 ounces) in half, horizontally through the middle, making two thinner pieces. Then, if any part is still very thick, I give it a pound or two (or three) with the meat mallet.  By doing this, it will help the chicken to cook for less time in your skillet.
Another key part of this salad is bacon, so after cooking your chicken breast and removing it from the pan to rest and cool, place the bacon into the same frying pan and cook it up. When the chicken is cool enough to handle, cut it into cubes. If it's still warm, I usually place both the chicken and the bacon in the refrigerator for a bit to cool it down.
While your chicken and bacon was cooking, this is when you will get your grape tomatoes cut in half, plus chop the romaine lettuce (if needed). I use a bag of chopped romaine for this salad to make it nice and easy, but I still find the pieces a bit large, so I like to chopped it up a bit more.
You'll make a simple honey dijon dress for the salad while the chicken and bacon are cooking too. I shake up mine in a canning jar and when the entire salad has been tossed, I drizzle on the dressing and toss it together with the rest of the ingredients.
We love blue cheese, so it's also added. We also like to have avocado with this salad, but I usually serve it on the side for those who want to add it.
After everything is tossed together, it's ready to serve. Divide the salad onto two plates and it's ready to go. One final note: I wouldn't recommend making this too much in advance and I also personally think it doesn't keep very well at all. I find that the lettuce gets too wilted and I won't eat it the next day, but my husband….that's another story.
Enjoy!
Print
Chicken BLT Chopped Salad
---
Description
A quick and delicious dinner is only minutes away with this Chicken BLT Chopped Salad recipe.
---
12 ounce

chicken breast (boneless and skinless)

1 tablespoon

olive or grapeseed oil
Salt and pepper

4

slices bacon (cooked and chopped)

10 ounce

bag chopped romaine lettuce

3 ounces

grape tomatoes (cut in half)

1/3 cup

blue cheese crumbles

1

avocado (peeled, pitted, and diced)
Honey Dijon Dressing
1/4 cup

olive or grapeseed oil

1 tablespoon

Dijon mustard

1 tablespoon

honey

1 1/2 teaspoons

apple cider vinegar
Pinch of salt
---
Instructions
If chicken breasts are thicker than 1/2 – 1″, cut in half horizonatally to create two thinner breasts. If necessary, cover chicken with plastic wrap and use a meat mallet to pound chicken breast to approximately 1/2 – 1″ thick. Season both sides of chicken breast with salt and pepper.
In a large skillet, heat oil over medium-high heat and add chicken. Cook for 3-4 minutes each side, until lightly browned and no longer pink inside. Remove from heat and allow chicken to cool before cutting. When cool enough to touch, chop into cubes. If chicken is still warm, cover and place in refrigerator to cool it more quickly.
In a bowl or mason jar, combine dressing ingredients and combine thoroughly. If being made in a mason jar, you can do this by securing the lid and shaking.
In a large bowl, toss together romaine, tomatoes, chicken, bacon, and blue cheese. Drizzle with half of the dressing and toss together again. Repeat with remaining dressing.
Serve salad immediately by divide on two plates. Serve with avocado.
Category:

Salad

Cuisine:

American
Keywords: 10 ingredients, bacon, blue cheese crumbles, avocado, chicken breasts, romaine lettuce, honey,
Recipe Card powered by
 Need more quick suppers? Check out these other great #15MinuteSuppers!
Follow 15 Minute Suppers on Facebook | Twitter | Instagram | Pinterest
and look for the #15MinuteSuppers hashtag too!
Head over to our #15MinuteSuppers Pinterest Board to see all the past recipes and more delicious goodness!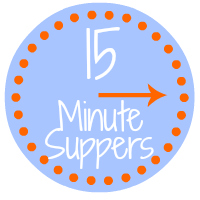 BLOGGERS: Would you like to join us at #15MinuteSuppers? We'd love to have you! Please check out the 15 Minute Suppers website or ask to join the Facebook group (for bloggers) to participate on Fridays…we'd love to have you join us.