Need an easy, cheesy dip recipe? This Slow Cooker Spinach and Artichoke Dip is delicious and made in your crock pot with lots of cheeses, fresh spinach and artichoke hearts.
Disclosure: I was provided with a complimentary copy of "The Healthy Slow Cooker" by Robert Rose Inc for review purposes. This post contains some affiliate links for your convenience. We receive a commission if purchases are made through our links to retailers. Click here to read our full disclosure policy.
I used to have two slow cookers from my Dad — they were a brand I had never heard of, something he picked up in his grocery store. One was smaller for dips and there was a larger one for main courses or bigger meals. They worked great and I was happy with them –but I have to admit that they collect dust more than cooking up delicious food. I always say I wanted to use them more, but tend to not think of them much unless I'm preparing a lot of food for a party or something.
One day, I decided it was time to clean behind and under my refrigerator for whatever reason. I also decided that the slow cookers were resistant to the refrigerator being moved. No need to move them off the top of the fridge.
I started to move the refrigerator with small shifts — a gentle wiggle to the left and then a wiggle to the right. Soon, the fridge nearly out, and suddenly I couldn't get it to budge. I pulled harder. I wiggled it more. I might have even rocked it a bit and then it happened…the biggest slow cooker came crashing to the floor from the top of the refrigerator.
It was incredibly loud as it crashed. So loud that a kid or two came rushing into the kitchen to see what happened. The glass lid shattered into a million pieces. The crock broke too. That poor slow cooker…my laziness killed it.
While I have new, big slow cooker — fancier than the other one ever was — I still miss the old one.  But I treasure the small slow cooker from my Dad even more than I did before — he's no longer with us, so I'm sure that plays a large part in my sentimental attachment. But what's the point in having them, or missing the old one, if I didn't use it much? Out of sight, out of mind — and the dust slowly starts to collect on them.
In my attempts to actually start using them more, especially with hot temperatures being in full force here in Las Vegas, I've made a goal to use one of my slow cookers at least once a week. I've been stuffing my slow cooker Pinterest board full of deliciousness and  I even had a new cookbook sent to me call "The Healthy Slow Cooker" by Judith Finlayson. I'm having fun trying different recipes from it — and really loving that the recipes are healthy. They are even gluten-free.
To give you a sneak peek at the awesome recipes in this cookbook, I'm sharing the first recipe I made from it: Sumptuous Spinach and Artichoke Dip. It's so easy to make and absolutely delicious. It has lots of vitamin A and K, plus a good source of folate.  I made it in my small slow cooker, which doesn't list the actual size anywhere it, but this recipe is stated as being for a small to medium slower cooker that is 1 1/2 to 3 1/2 quarts.
I found that I had a hard time getting all the spinach that this recipe calls for into the slow cooker.  To remedy that, and knowing how much spinach cooks down, I added all that I could and when the spinach leaves cooked down a bit, I stirred in the remaining spinach. It worked great.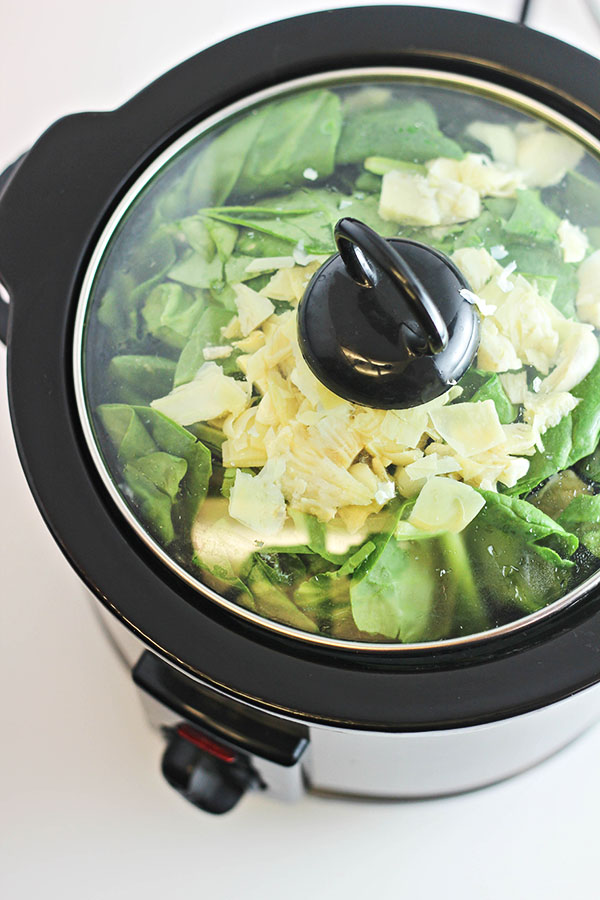 The only other change that I made to the original recipe is that I used the full 8 ounce brick of Neufchatel cheese. The original called for 6 ounces and I really didn't want to have 2 ounces of cream cheese hanging around my fridge. I also increased the garlic a bit because we are big garlic fans in our house.  I also stirred the dip a few times while it was cooking,  making sure that everything was well combined.
When it's done, you'll have a cheesy, yet healthy, dip for your parties or get-togethers. I usually serve it right from the slow cooker with some sort of firm crackers or toasted pita chips or bread slices.
If you wish, you could also spoon it into a nice bowl for serving.
Be prepared — this dip will go in no time. Everyone loved it and I can already tell you that it's going to become one of our go-to party dips.
Slow Cooker Spinach and Artichoke Dip Recipe
Here's the full recipe as shared in the cookbook — I've noted the changes I made if you wish to try them. If you like this recipe, we'd love for you to share with your family and friends: share on Facebook or pin it on Pinterest!
Print
Slow Cooker Spinach and Artichoke Dip Recipe
Need an easy, cheesy dip recipe? This Slow Cooker Spinach and Artichoke Dip is delicious and made in your crock pot with lots of cheeses, fresh spinach and artichoke hearts.
Prep Time:

10 minutes

Cook Time:

2 hours

Total Time:

2 hours 10 minutes

Yield: About

3 cups

1

x
Category:

Appetizer

Method:

Slow Cooker

Cuisine:

American
Scale
Ingredients
1 cup

shredded mozzarella cheese

6 ounces

Neufchatel cheese (cubed)

1/4 cup

freshly grated Parmesan cheese

1

clove garlic (minced)

14 ounce

can artichoke hearts (drained, rinsed and finely chopped)

8 ounces

trimmed fresh spinach leaves (about

8 cups

)

1/4 teaspoon

freshly ground black pepper
Instructions
In slow cooker stoneware, combine mozzarella, Neufchatel cheese, Parmesan, garlic, artichokes, spinach, and black pepper. Cover and cook on high for 2 hours, until hot and bubbly. Stir well and serve with homemade tortilla chips.
Notes
-Serves approx 12 people (1/4 cup serving size) – however, this can vary
-Source: The Healthy Slow Cooker by Judith Finlayson (reprinted with permission)
-Frozen artichokes (thawed) can be substituted for canned, you will need about 6 artichoke hearts
-My adaptions to this recipe:
I used a full brick of Neufchatel cheese (8 ounces)
I used 2-3 garlic cloves as I knew we'd like a bit more garlic in this
I added as much of the spinach as I could to my slow cooker in the beginning. After the spinach had cooked down a bit, I added the remaining spinach.
Nutrition
Serving Size:

1/4 cup

Calories:

87

Sodium:

196 g

Fat:

6 g

Carbohydrates:

4 g

Fiber:

1.6 g

Protein:

5.2 g

Cholesterol:

20 mg
Keywords: 6 ingredients, canned artichokes, mozzarella cheese, party food, crock pot, cream cheese, party dip,