This post brought to you by Bolthouse Farms. All opinions are 100% mine.
This Carrot Cake Smoothie is a healthy drink made with 100% carrot juice, so you'll go from blending to drinking in no time!
This year, David and I started making fruit and vegetable smoothies at home. We feel great when drink them daily, but, when life gets hectic, the smoothie making tends to slow down…or even stop.
One quick and efficient option we've found for is using ready-to-drink fruit and vegetable juices, like the ones by Bolthouse Farms. They are carrot farmers with more than 95 years of farming experience. They not only grow carrots, but also make over 30+ beverages, including everything from carrot juice to fruit juices and breakfast smoothies and protein shakes. They even have holiday egg nog and other seasonal drinks too.
The main ingredient in this Carrot Cake Smoothie is Bolthouse Farms 100% Carrot Juice, which is a juice that is made completely of carrots that their farmers have planted, grown, and harvested. And while the juices are ready-to-drink, they are awesome for using in recipes, like my smoothie, but also as a mixer in cocktails or even in savory dinner dishes.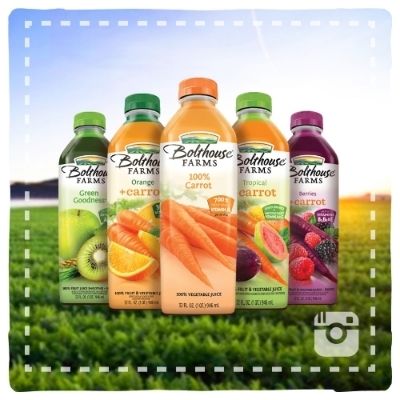 Right now, you have a an opportunity to get a $1.50 off coupon from Bolthouse Farms in their Bolthouse Instagram Promotion. This will make a great deal on a bottle of their 100% Carrot Juice so you can try out my recipe — or grab any other flavor you like. Some of our other favorites are the Salted Caramel Latte, Berry Boost, and Blue Goodness. You can see all 30+ flavors here.
To get your $1.50 off coupon, do the following:
1) Snap a pic of a Bolthouse Farms bottle or ad (you can even take a photo of one on this post)
2) Upload it to your public Instagram account
3) Tag it with #CarrotFarmers and #GotCoupon — and then you'll get a $1.50 off coupon from @BolthouseFarms in the comments field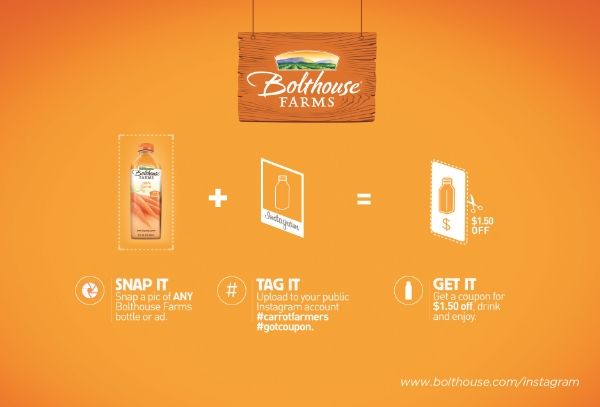 Once you have your bottle of Bolthouse Farms 100% Carrot Juice, you are ready to blend up your smoothie. I decided to make a Carrot Cake Smoothie because carrot cake is my all-time favorite cake. Each year, my oldest makes me my birthday cake which is complete with carrots, pineapple, and walnuts….my total favorite way of having it and inspiration for this smoothie. I've added coconut too, just because it's a favorite for both my husband and I and sounded like a great addition.
I use 12 ice cubes in this recipes, but you may like less or even more, depending on how thin or thick you like your smoothies.
Here's the full recipe — feel free to print, pin to Pinterest, or save to your ZipList:
Carrot Cake Smoothie
Nutrition Information
Serving size:

2 (approx 12 ounces each)
Prep time:
Cook time:
Total time:
Ingredients
1½ cups Bolthouse Farms 100% Carrot Juice
12 ice cubes (more or less depending on how thin/thick you like it)
½ cup pineapple chunks, frozen
1½ teaspoons vanilla extract or 1 scoop vanilla protein powder
¼ cup walnut halves
¼ cup flake coconut (we used sweetened)
½ teaspoon cinnamon
Optional garnish: chopped walnuts, flake coconut, cinnamon, shredded carrots
Instructions
Place all ingredients in a high powered blender in the order listed. Blend until smooth. Garnish as desired. Serve immediately.
What's your favorite smoothie?